Wednesday, November 3, 2021
A South West Herts Joint Strategic Plan has just been issued by the County Council to look at the the area's future to 2050.
Addressing strategic issues, including infrastructure which cross council boundaries, the JSP will need to take account of the Hertsmere Draft Local Plan which is currently out for consultation.
By working together, the local councils will theoretically be in a stronger position to deliver and fund the homes, essential local transport links, health services, educational facilities and employment that local people want to see.
A website has been set up for an initial opportunity to comment until Monday 14 December. There will be a further opportunity to influence the Plan when it is formally issued for comment in 2022.
---
Tuesday, November 2, 2021
A new flying showing residents how and where they can object to the proposal to develop Harts Farm and 18 hectares of Green Belt is being delivered to 5,000 homes around Little Bushey.
If you are out of our circulation area, or don't want to wait until the leaflet drops on your door mat, you can down load a copy here.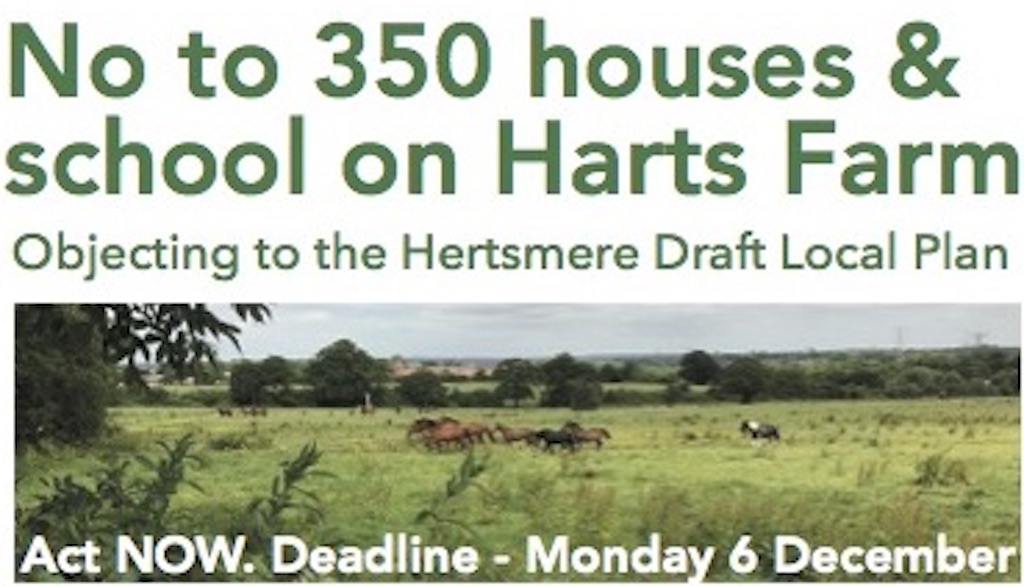 ---
Tuesday, October 26, 2021
Both Little Bushey campaigns have been featured by Herts Live after reporter Adam May visited the sites and spoke to concerned residents and campaigners.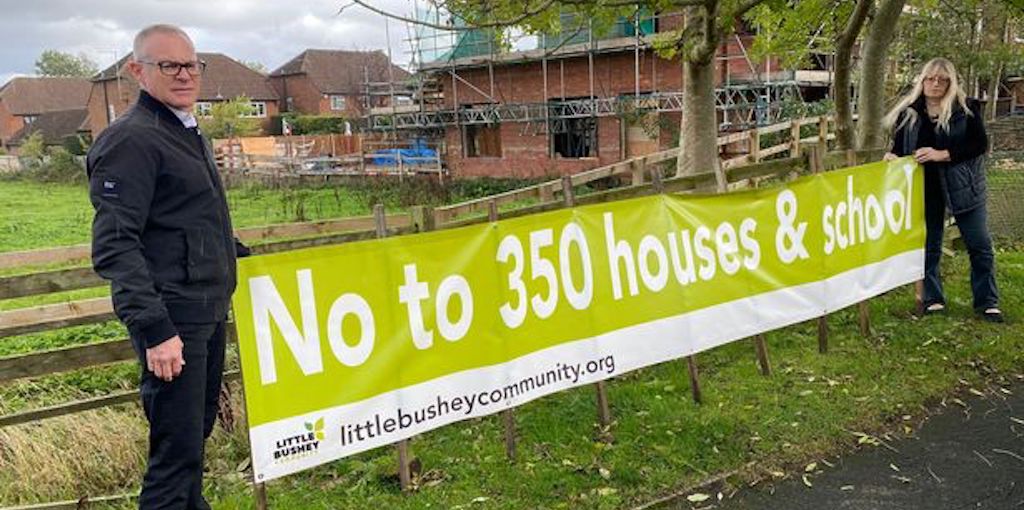 ---
Wednesday, October 20, 2021
CPRE Hertfordshire has slammed Hertsmere's Draft Local Plan saying that its emphasis is on economic growth at the expense of nature and the environment.
In a strongly worded document, they claim that it's abundantly clear that they have a 'strong traditional economic growth agenda' and that they have not given sufficient consideration to the environmental implications of using 1025 hectares of Green Belt.
The CPRE also pulls up the Council for frequently claiming that they have to provide for housing need in full, claiming it's not true and that they have failed to take into account protected land in reducing housing targets.
The report also points out that Hertsmere has ignored central Government's pledge to protect the Green Belt and that protecting it is not a strategic objective in the Plan. It continues to say that giving over 12% of the Borough's Green Belt to development will have a very significant impact on its character and appearance.
Equally, say the CPRE, the Plan underestimates the expected changes in demand for town centre and out-of-town sites which can be converted to residential use.
The CPRE are now working on a more detailed technical review that they will publish in November. Their initial review can be read in full here.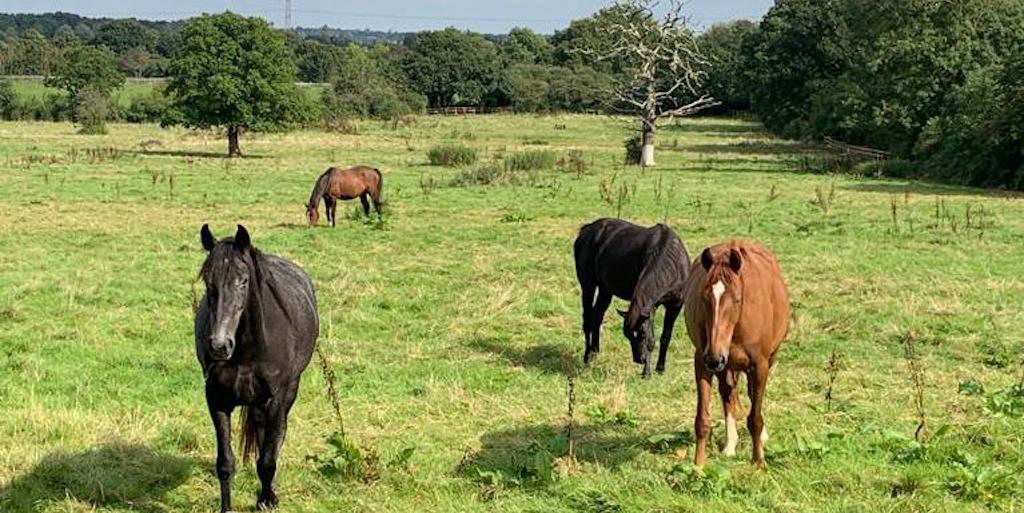 ---
Thursday, October 14, 2021
Nearly 150 people attended the 'No to 350 houses & school' meeting organised by Little Bushey Community. Those unable to attend followed the proceedings on Zoom and Facebook.
Residents were able to hear Little Bushey Community Chair, Daren Nathan, explain the Draft Local Plan process and outline the objections to building on the Harts Farm site, a significant flood plain
He urged local residents to get behind the campaign which will see an extra 1200 cars on Little Bushey Lane, the descimation of wildlife and no additional infrastructure.
Aside from voicing objections to the proposals, residents described the impossibilty of accessing the consultation process via the Council's planning portal.
Politicians from all three parties were in attendance, but claimed they were prevented from speaking on QC's advice.
As the meeting drew to a close, news came through from Hertsmere that the consultation was to be extended by two weeks as a result of the difficulties in lodging objections.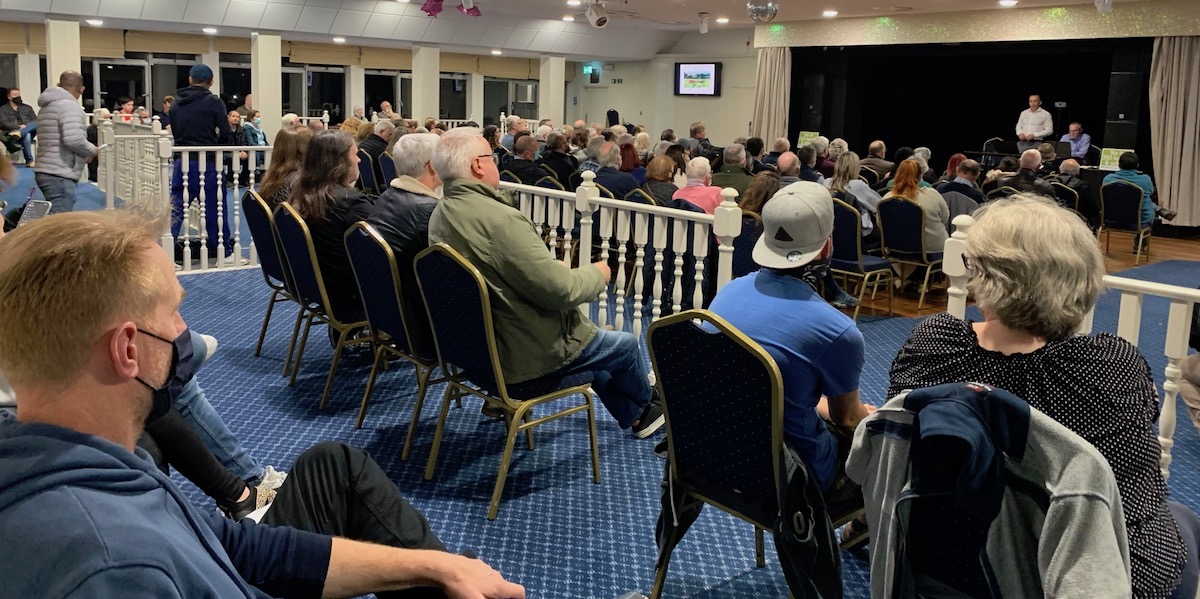 ---